Lesson 6: Employment History
/en/resumewriting/objectives-summaries-or-professional-profiles/content/
Employment history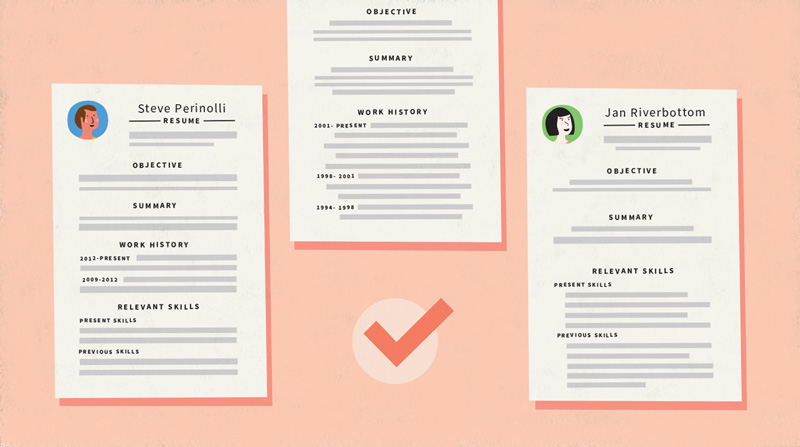 The reason a hiring manager looks at your resume is to determine whether your skills and experience are a match for his open position. Where does he look on your resume? He looks at your Employment History to see if the skills and accomplishments you list show that you will be an ideal worker.
In this lesson, you will learn which format is best for listing your employment history. You will also learn how to market your resume by focusing your history on accomplishments and measures rather than simply listing duties. Then you will craft an employment history for your own resume.
Common ways to list employment history
The No. 1 reason employers are looking at your resume is to find out if your skills and experience match their needs. How do they know what skills and experience you've had, and how can they tell if you will be an asset to their organization? They'll do it all by reading your employment history section.
You want this section to be powerful and to represent you in the best possible light. However, it also must be clear, concise, and understandable to anyone who reads it. So how can you make your employment history both powerful and concise? Let's take a look at some of the most common ways to list employment history.
Chronological
The chronological resume format lists your work history with the most recent position at the top. In the example below, Joe titled his employment history section Experience. You can use any title that makes sense for you, such as Work History or Professional Experience.
Click the buttons in the interactive below to learn more about the chronological resume format.
Functional
Let's take a look at the functional resume format, which lists your skills instead of detailing your work history. In the example below, Miranda has listed her skills by category, including Contracts Management and Leadership.
Click the buttons in the interactive below to learn more about the functional resume format.
Many hiring managers dislike the functional resume because they can't use it to gauge your reliability, longevity, or how recently you used certain skills. For example, someone who created sales brochures 20 years ago may not be familiar with the software technologies used to produce a sales brochure today.

Combined: Functional and Chronological
Let's take a look at a resume that combines both the functional and chronological approach. In the example below, Jamie wanted to focus on her skills while still demonstrating a consistent work history.
Click the buttons in the interactive below to learn more about the combination resume format.
Try this!
Download our Chronological Resume Template if you haven't already. If you've already started your resume template from a previous lesson, you can open that document.
You will be working only in the Experience portion of the document for this activity. Please refer to the following picture: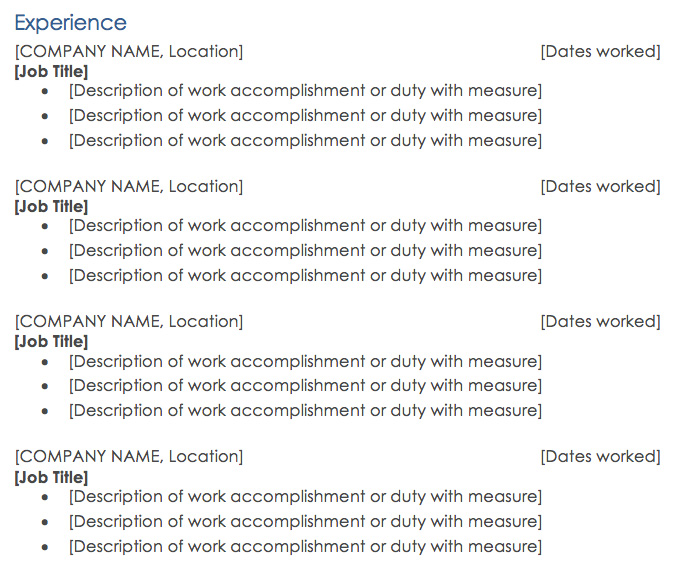 Replace the template text with your own information. Be sure to remove the brackets as you are replacing text.
Rename this section, if desired, depending on the focus you are trying to achieve. You might rename it Employment History if you are trying to show a steady stream of past jobs, Experience if you are trying to emphasize the skills you used previously, or Skills if you want to focus on your skills that transfer to the job you want.
Replace [Dates worked] with the dates of your current or most recent employment. For these dates, you can type the month and year you started and left the job. If you're still employed, type Present instead of an end date.
Enter your employer's company name and location in the [COMPANY NAME, Location] placeholder. For the location, you can either type the city and state abbreviation or you can type Remote if you worked from home.
Replace [Job Title] with the job title you have or had when you left this job. Make sure it is a title that is understandable to anyone who might read your resume. For example, OHC Specialist might be better explained as Claims Specialist, Occupational Health.
Describe the job by replacing each [Description of work accomplishment or duty with measure] with a brief description of an accomplishment or job duty you had in this role. Be sure to include a measure of some sort so a hiring manager will have a more concrete idea of the scope of your experience. For example, instead of saying that as a cashier you balanced the cash drawer, explain that you regularly balanced the cash drawer with less than 1% margin of error.
Repeat the first step for each additional job you have held. Add or delete sections as needed.
Save the file to your computer. You will be adding more information as you progress through the following lessons.
Remember that you want each job title or description to reinforce the points you included with your summary, profile, or objective statement.
Continue
/en/resumewriting/education-information/content/