Lesson 3: Resume Tips and Strategies
/en/resumewriting/resume-formats-choosing-the-right-one/content/
Resume tips and strategies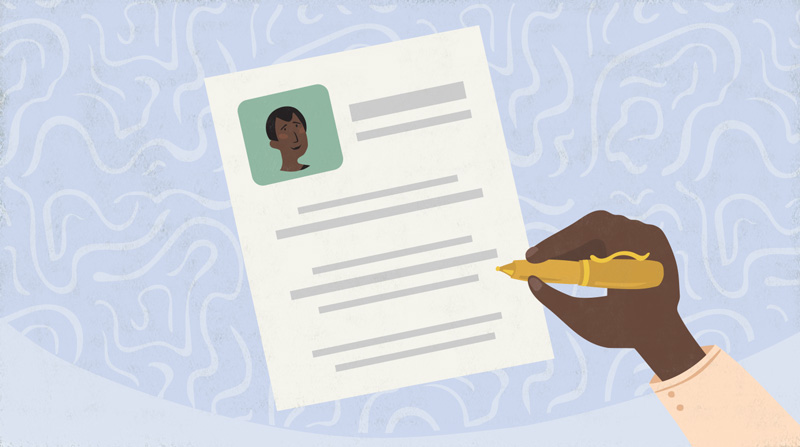 Regardless of which format you use or what information you choose to include or omit, there are certain things you can do to help your resume stand out above the crowd.

In this lesson, you will review tips and strategies for creating a winning resume and identify common mistakes to avoid in the process. You will also learn about considerations for including links to online profiles and personal webpages.
Watch the video below to learn about some common resume mistakes.
Tips for writing a great resume
In the next unit, we will be going into greater detail on how to write each section of your resume. Before we begin, it's a good idea to understand the general tips and strategies that can make your resume shine.
Consider using the following techniques as you approach writing your resume.
Customize your resume for each position you are applying for. Use your summary or profile section to highlight your skills and expertise as they relate to the specific job. Better yet, carry this customization throughout the entire resume. It may be convenient to create several versions of your resume based on common positions you will be applying for so you can eliminate the amount of customization you will have to do for each job.
Make sure the rest of your resume supports your summary, profile, or objective. If you include in your summary that you have been a consistent top seller for your region, you should include specific examples in the body of your resume to reinforce this statement.
Include key words on your resume. Keep the job description close by when you are customizing your resume so you are including key words and phrases that fit the job, field, or occupation. Recruiters often scan a resume in under 15 seconds. They are looking for key words that show you have the skills and knowledge required for the position.
Be concise. Because some recruiters look at as many as 500 resumes to fill one position, they want to see your accomplishments, skills, and experiences in as few words as possible. Bullet points and concise language can showcase your communication skills while highlighting your areas of expertise.
List your past work accomplishments (not just your responsibilities) using some form of measures. Hiring managers want to compare your skills and abilities to the other candidates they are considering. For example, tell them what percentage you increased in sales, the number of staff you managed, or the specific scope of a project.
Review these articles for additional help with key words and customization: The Quintessential Guide to Words to Get Hired By and What it Really Means to 'Tailor Your Resume'
Tips for designing a great resume
You now have some strategies for how to write and phrase your text, but the way you design and format your resume for clarity and readability can be just as important.
Watch the video below to learn some tips for designing your resume.
Consider using the following techniques as you approach the design of your resume.
Use white space and bullet points to help emphasize what you want the hiring manager to know about you. If the hiring manager is scanning to see if you meet the requirements but can't easily spot the information, you may get overlooked.
Use bold and italics to emphasize key words or skills. Be careful to not overuse this technique, though. If there are too many elements in bold or italics, the emphasis is lost.
Use a larger-point font for headings and subheadings. This can help direct attention to certain areas of your resume and also demonstrates a strong level of organization.
Use a conservative font, like Times New Roman, Arial, or Tahoma. If the font is difficult to read, your resume may not get past the first look.
Include adequate white space. This can be done around your headings, blocks of text, and with margins. Hiring managers can use this area to take notes before, during, or after an interview.
Along with formatting your presentation, be sure to carefully edit your text. Consider these tips.
Use verb tense consistently. For your present job, you can use the present tense, such as design and oversee production of building additions. For previous employment, use the past tense (designed and oversaw).
Vary your word choice. Even though you are trying to include key words, don't overdo it. If the key phrase you are trying to include is strategic planning, use a thesaurus to find alternative words, like defined program goals and measures.
Spell check, spell check, spell check! Almost every recruiter and hiring manager has a story about the resume they threw out because of a misspelled word. Typos and misspelled words show that you are not detail oriented or conscientious about your work. However, do not rely on your spell-checking software alone. Some grammar and spelling mistakes can be easily missed.
Common resume mistakes to avoid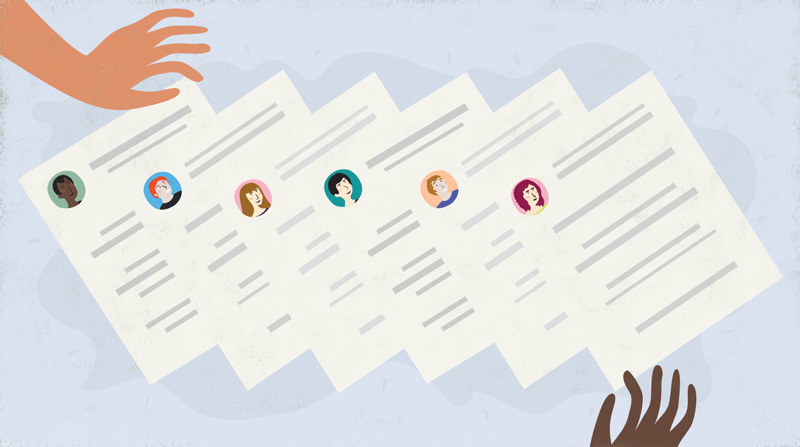 There are several reasons hiring managers consistently put resumes in the No pile. You want to avoid these common mistakes.
Don't submit your resume for a position for which you are not qualified. This was cited as the No. 1 pet peeve among HR professionals on a recent LinkedIn discussion. Make sure you meet at least the basic requirements. Think creatively, though, because sometimes the work you have performed outside of the field may help you meet job requirements.
Don't lie. Whether or not it's intentional, including false, inaccurate, or misleading information brings your ethics into question and can even be illegal. Keep in mind that hiring managers are much more likely to Google and/or conduct background checks on candidates to eliminate dishonest ones.
Don't disregard references. While you do not need to post your reference information on your resume, you should at least have them listed in a separate document that can be easily supplied if requested. Make sure your references are willing and ready to discuss your skills and abilities with a potential employer.
Don't use more than two fonts. This can make a document difficult to read. The reader's eye needs familiar and easy-to-read fonts, like Times New Roman and Tahoma.
Don't use clip art on your resume. Clip art is not generally considered professional, and any style or formatting design should be minimal. However, if you are applying for a job in a creative industry, then showcasing your design abilities on your resume may be more acceptable and appealing.
Don't include pictures. Unless it is required for the position, your photo is not necessary.
Don't include personal or health-related information. This includes your birth date, height and weight, health or marital status, religion, or affiliations in clubs that are not related to your career. While it may be appropriate in other cultures and for certain jobs, personal information should generally not be included if you are submitting a resume for a job in the United States.
Don't include salary information unless you are specifically asked to do so.
Don't misspell anything. Misspelling words, especially words about the position, make you appear careless and unreliable. Use a spell checker, and have at least two other people proofread your resume for typos and errors.
Linking to online profiles and personal websites
With the growth of social media, blogs, and personal webpages, it is now becoming more common to see these links on resumes. Webpage portfolios, LinkedIn profiles, and blogs have the capacity to showcase more about who you are and the type of work you have done.

Some professionals believe links can enhance a resume by allowing a potential employer to go online and find out more about a candidate. However, there are some drawbacks to putting these links on your resume, especially if your webpage or profile is not polished and professional.
Here are a few things to consider.
Webpage portfolios are great for showcasing your work, especially if you are in a technical or creative industry. They can be especially beneficial for college graduates and entry-level job hunters who may not have the work experience to prove their abilities.
Blogs are another way to highlight your personality and expertise. They are a good alternative for those whose careers may not produce actual physical work samples to showcase. However, keep in mind that blogs are very opinion-oriented and can open you up to negative comments or feedback that potential employers can read.
Online professional profiles, such as LinkedIn, offer the advantages of highlighting your expertise, posting related links, and offering recommendations from colleagues all conveniently located in one spot. However, you should once again consider that the social interactive nature of profiles makes it difficult to control all of the content on your page, which may make you vulnerable to content you would not like a potential employer to read.
Online social media sites like Twitter and Facebook should only be linked if you use them for professional branding and networking rather than for personal social interaction. Also, if you do not have much of a following on these sites, it will not be advantageous to include them. Only a professional profile with a strong following will portray you as an expert in your field.
Maintain an updated, professional, and polished site if you are going to use one of these links on your resume. Make sure all content is grammatically correct. Create design and formatting that is professional and appealing. Remove all content that may be considered personal and/or inappropriate in nature.
Photos are commonly expected on profile sites and are a great advantage for potential employers; however, they may make you vulnerable to discrimination based on your physical appearance.
Continue
/en/resumewriting/contact-information/content/